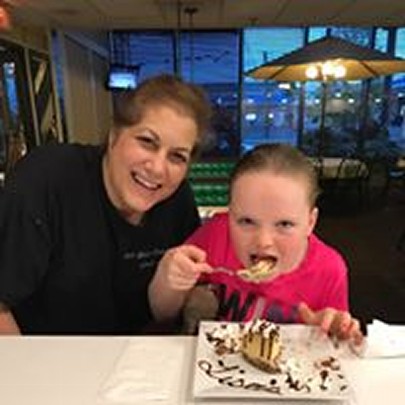 Another young fan.
Nyack Retired Nurses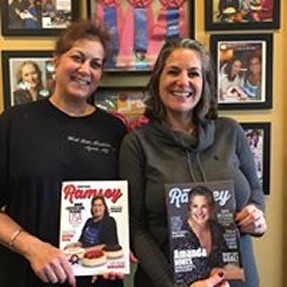 On the cover of Ramsey Magazine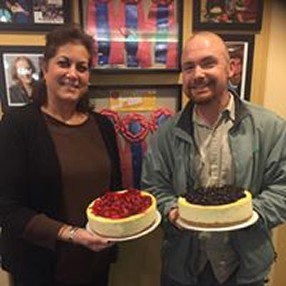 He loves the cheesecakes so much that before eating a full meal he ate 3 slices. (and you know how big our slices are). Amazed by his appetite. He came back and had another 2 slices.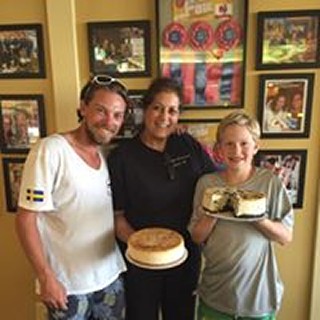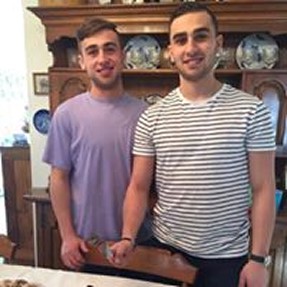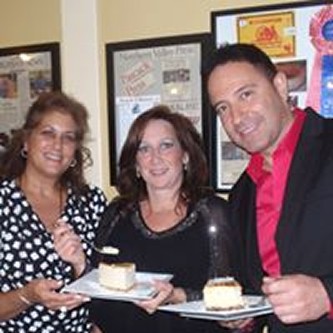 Singer Tiffany and Soave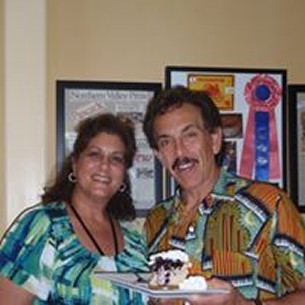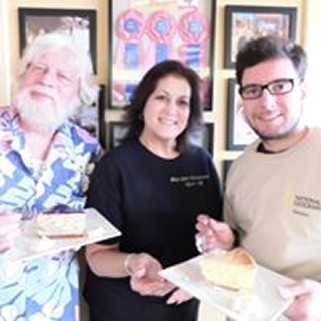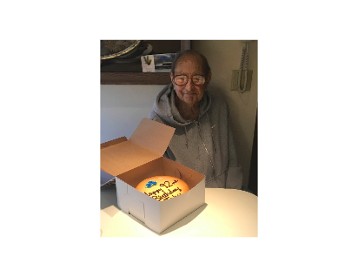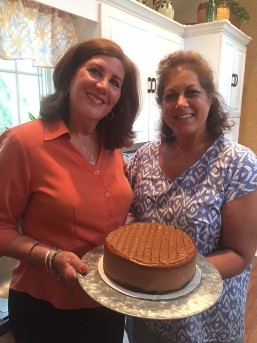 Winner of a Cheesecake Contest in the Ramsey Magazine. Her choice of flavor-a Salted Chocolate Caramel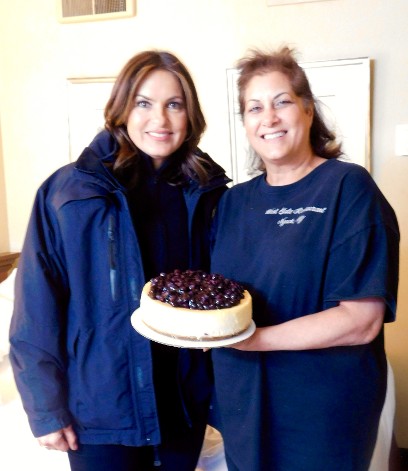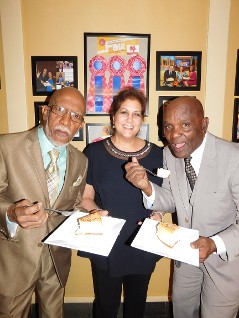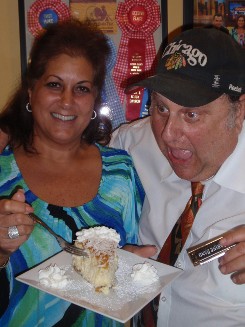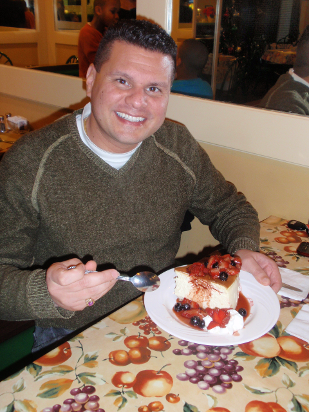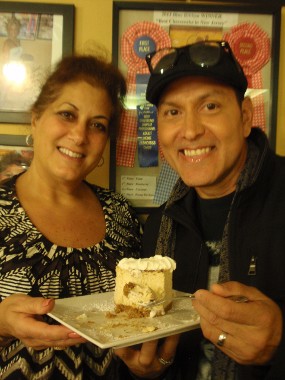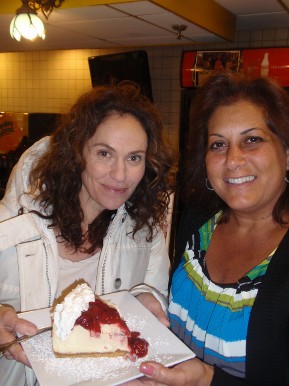 Actress Amy Brenneman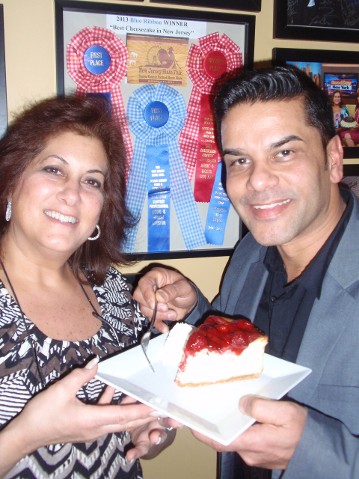 Luisito Rosario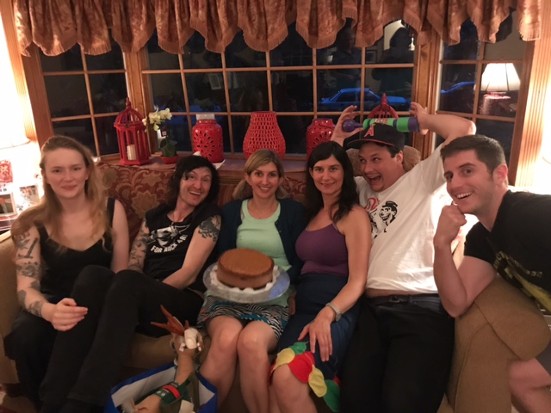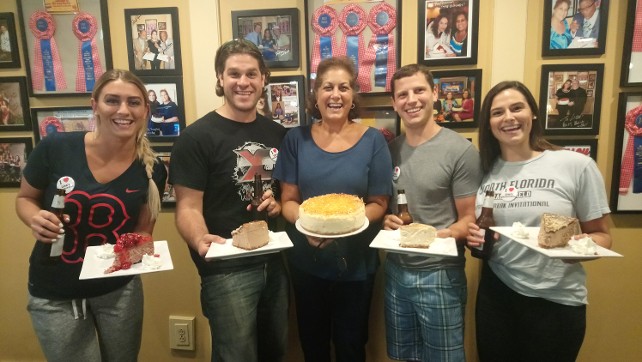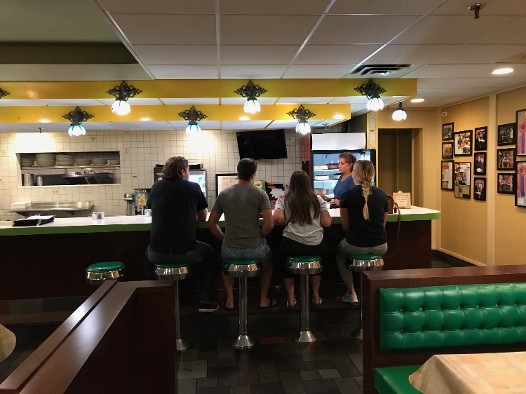 Drove down from the New England State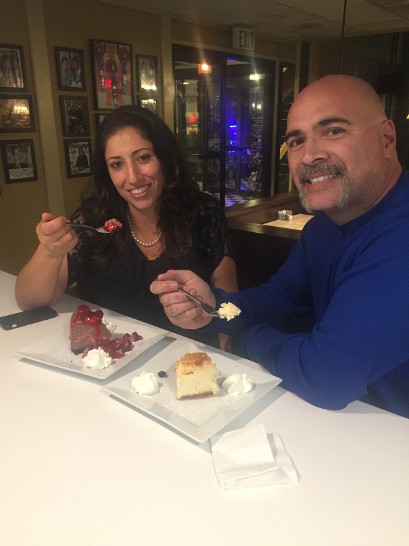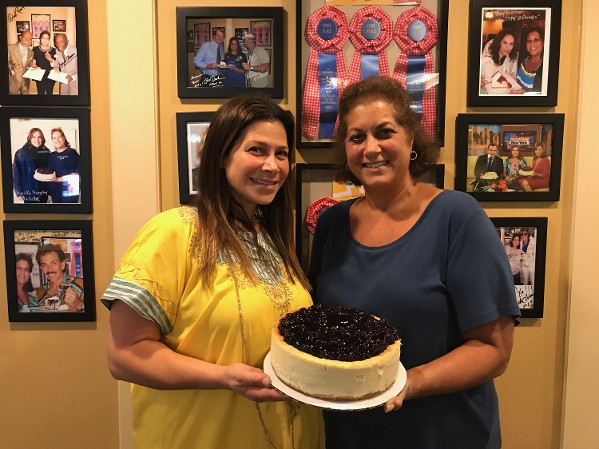 The magnificent Gina Marie, Psychic Medium. Blueberry is her favorite.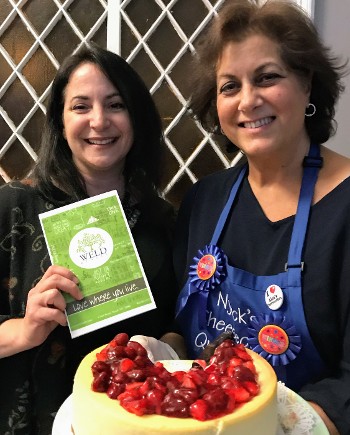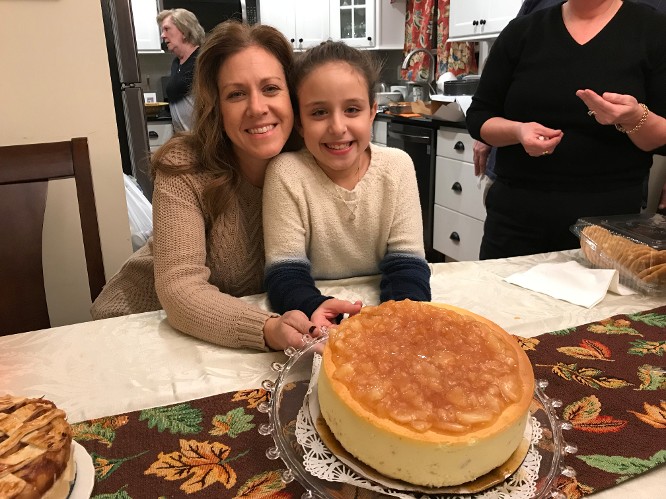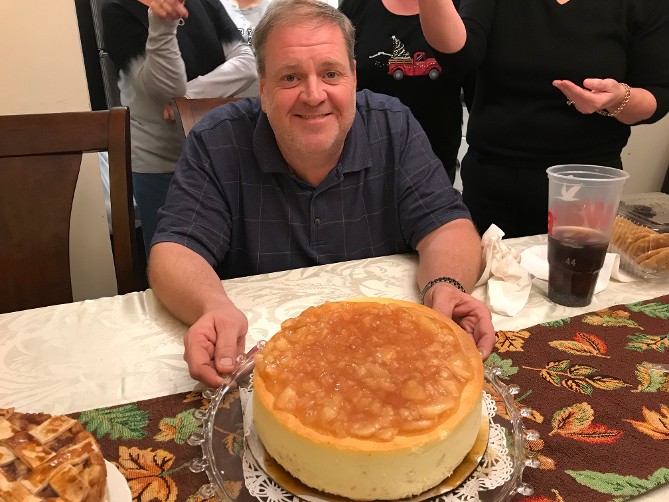 A Special request for an Apple Cheesecake enjoyed by their family on Thanksgiving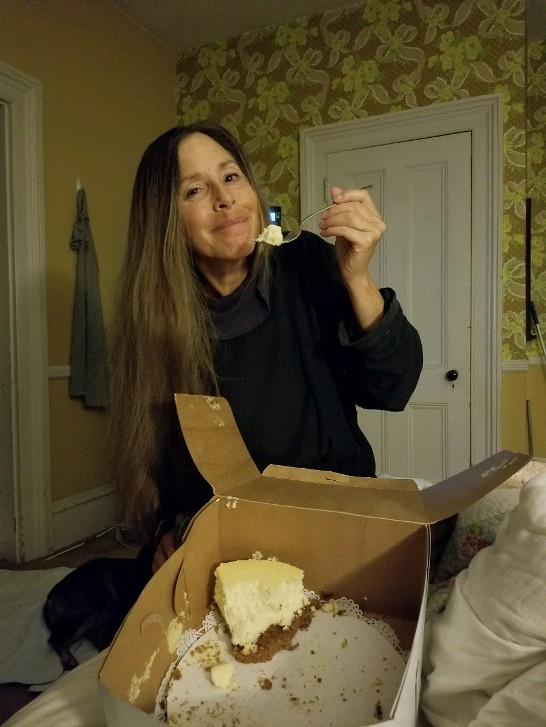 Flair Banke wrote me a beautiful letter!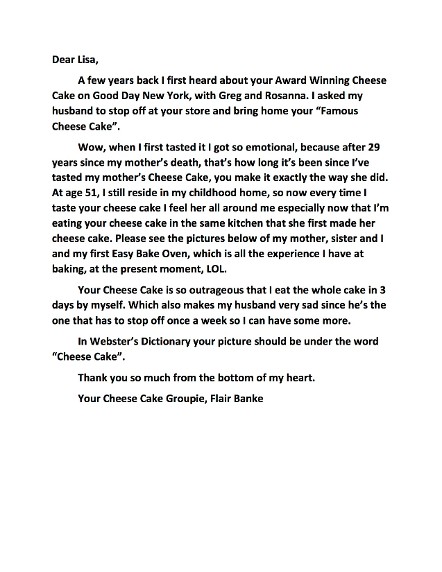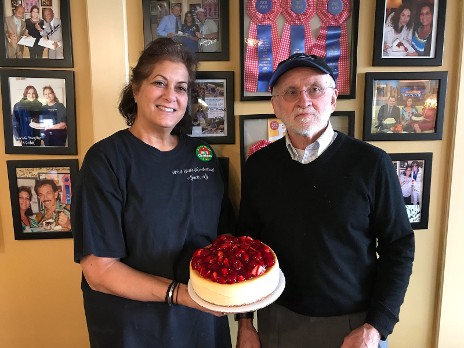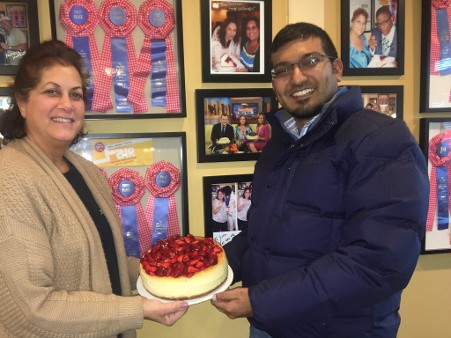 Kishi John took Cheesecake to his mother-in law in Guyana, South America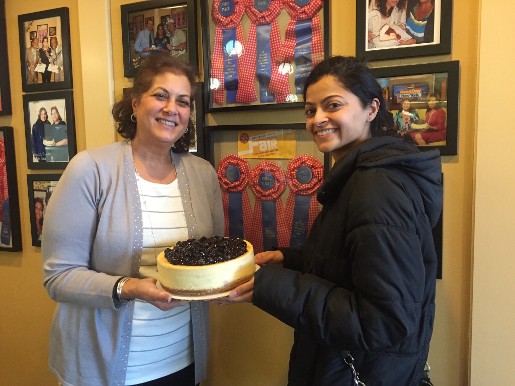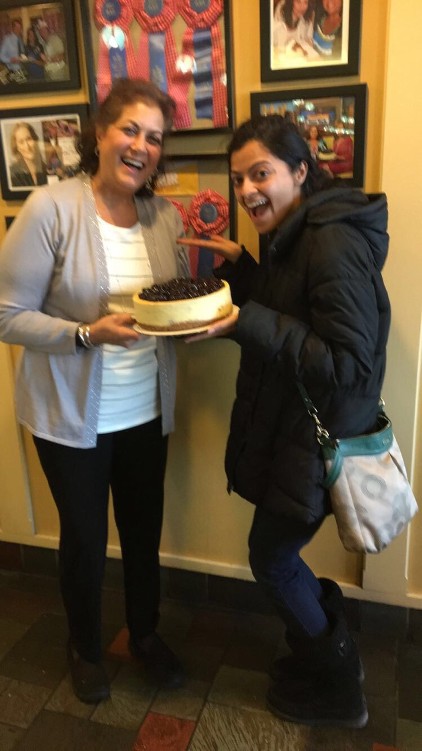 Another Cheesecake Lover who has brought her entired family from Chicago to have cheesecake.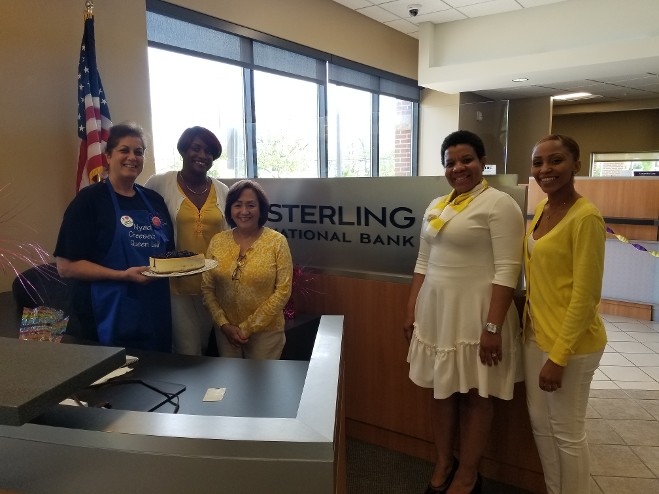 The beautiful ladies at Sterling Bank in Nyack. I donated and served blueberry cheesecake at their open house.
Shamara all the way from Monticello, NY for her favorite Coconut Cheesecake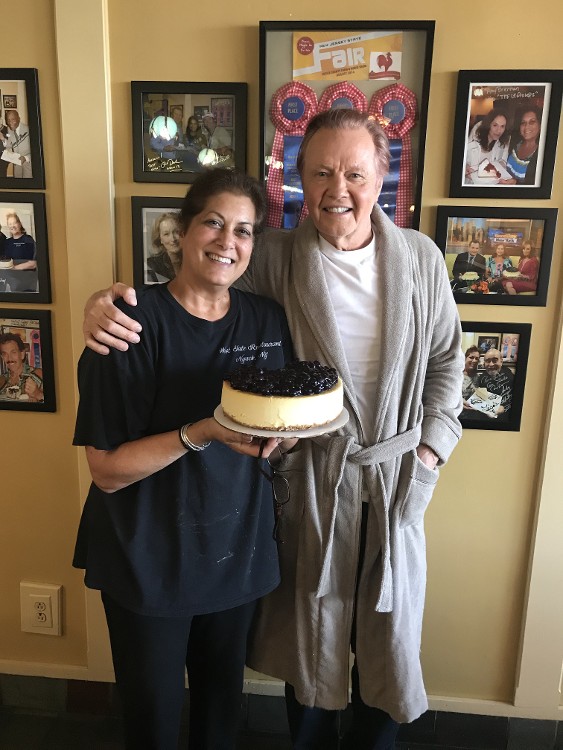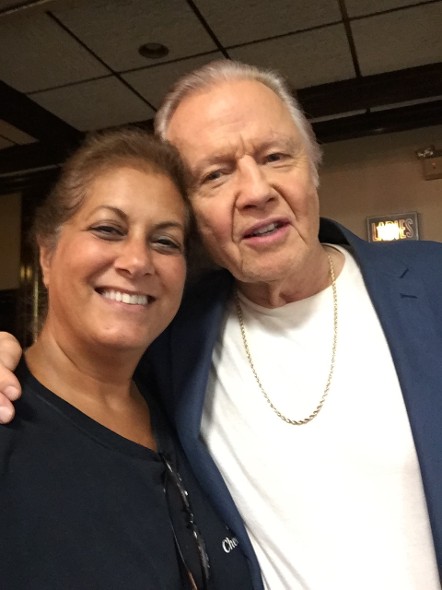 Jon Voight visited and took away three whole ones. A week later he came back for more!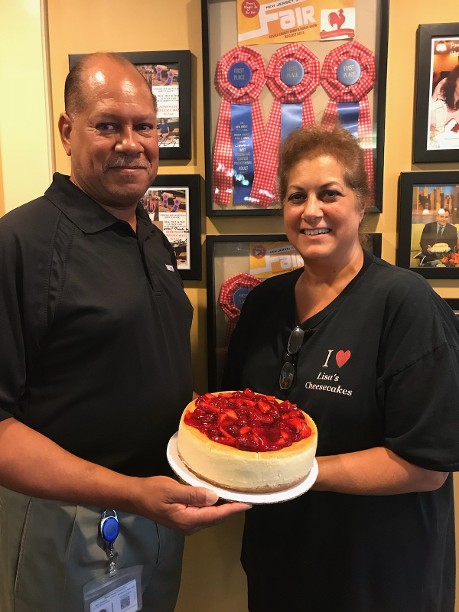 Mark from Virginia asked for a special order for a one of a kind flavor
!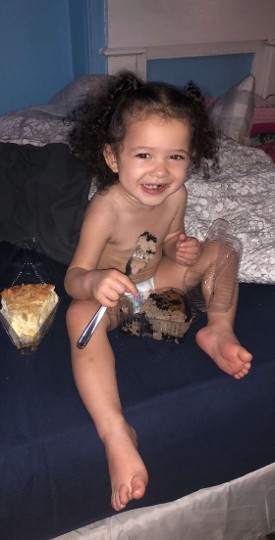 How cute is Jada loving the Chocolate Cookies N' Creme.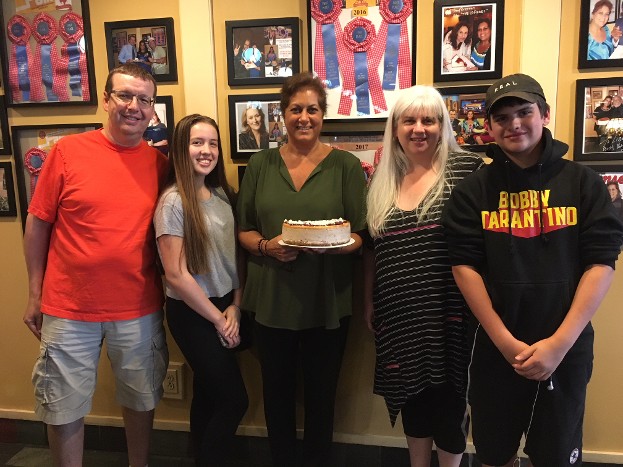 The James Family from Toronto Canada. David, Meagan, Jennifer and Owen came just for cheesecake.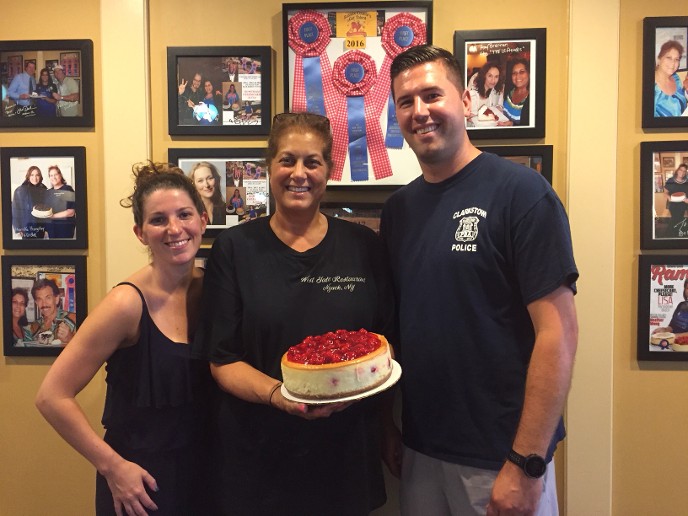 Clarkstown Police Officers-Corry Doyle and Matt Dowen picking up a cheesecake for Officer Tom Doyle's birthday celebration. Happy Birthday Tom!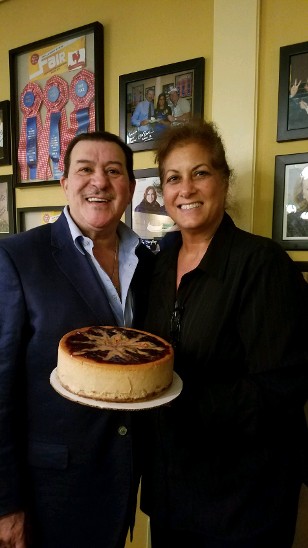 Famous Salsa singer, Tito Rojas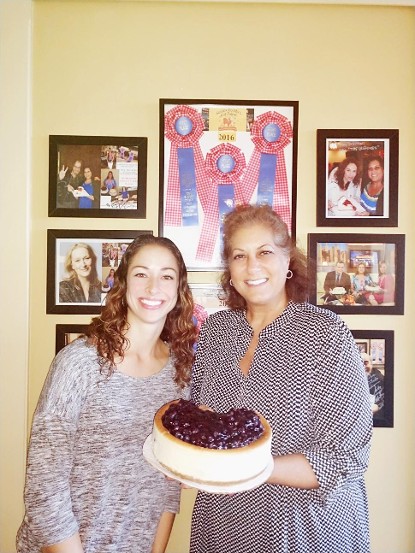 I had the pleasure of meeting two beautiful sisters who got a selection of flavors for Laura's birthday. Happy Birthday Laura!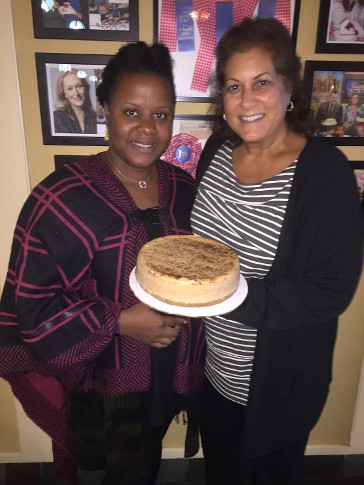 One of my long time fan, Lateefah. Loving her Coquito Cheesecake.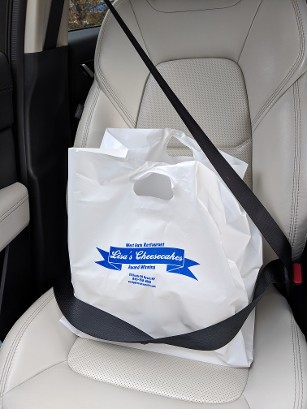 Christinia took her Thanksgiving Cheesecake very seriously with Safety First!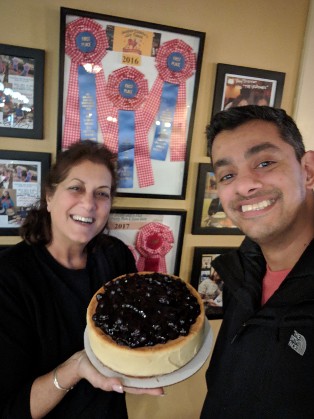 He's always thrilled to pick up cheesecake and
with his new addition to his family. Congratulations!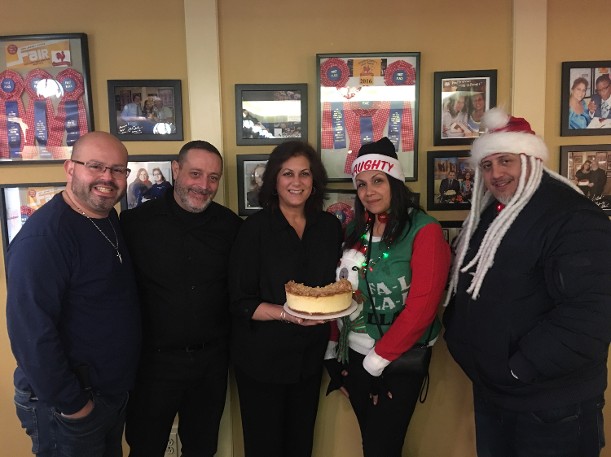 Eddie Ramirez and friends celebrating the holidays with cheesecake and with Lisa and waitor Rick
It was an honor to serve cheesecake at the induction of the newly elected New York Justice of the Supreme Court, Ben Barbato and his beautiful wife Brenda.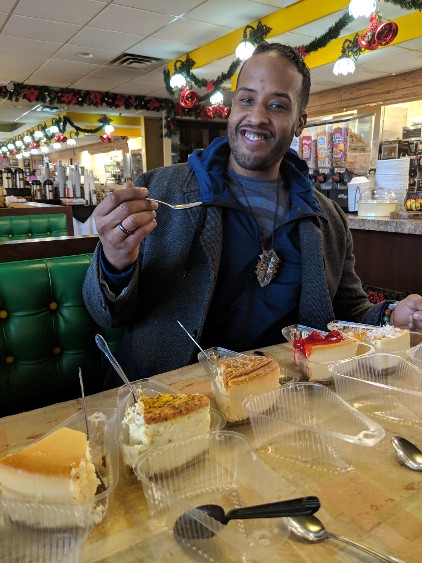 Tasting Lisa's Cheesecakes for the first time. All lined up and ready to taste. Plain, Pistachio, Slalted Caramel, Cherry and Mango Coconut. We almost had to pick him up off the floor. (Lisa's cheesecake lovers know exactly what we mean)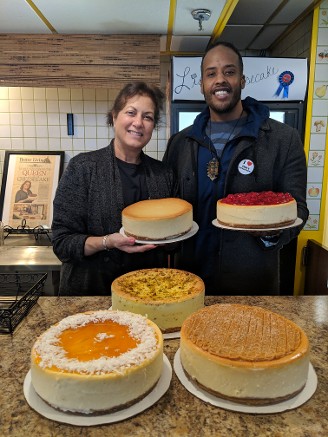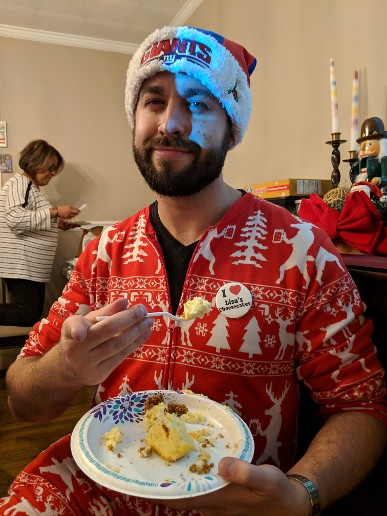 What can be better? Wearing a Giant's hat on Christmas? Wearing cozy pajamas? Wearing an
"I Love Lisa's Cheesecake" pin? Wearing a smile on your face while eating Lisa's Cheesecake?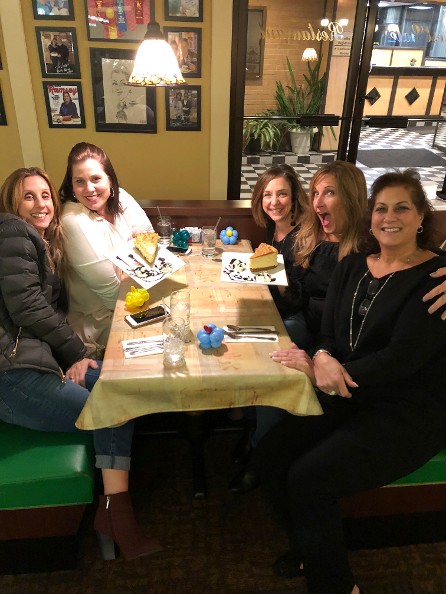 Tracey and the girls!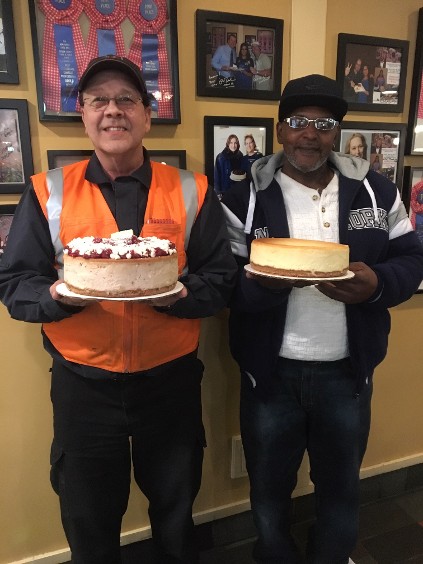 Ray and Vincent just drove 2 1/2 hours from Conneticut just for cheesecake!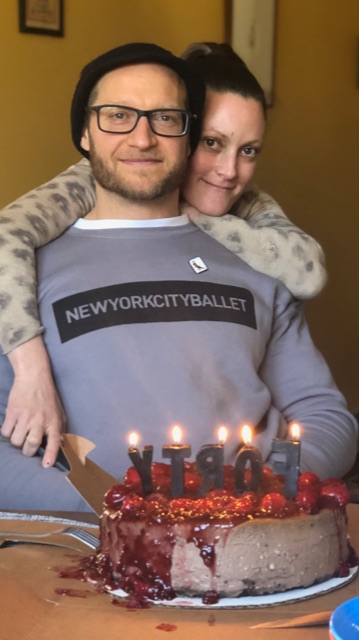 Dear Lisa,
Thank you so much for making this beautiful cheesecake for Rory! We fell in love over your chocolate raspberry. He had never eaten cheesecake before yours and now swears that he'll only eat cheesecake with me. However, the real situation is that he also won't eat anyone else's cheesecake but yours! He ate half the cake the first night! You made his 40th magical!
Love
Bonnie and Roryn (keep the cheesecake level when you carry it...:))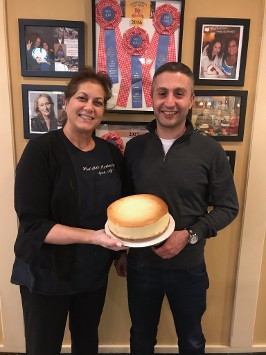 Albert came all the way from Armenia and has had every flavor available.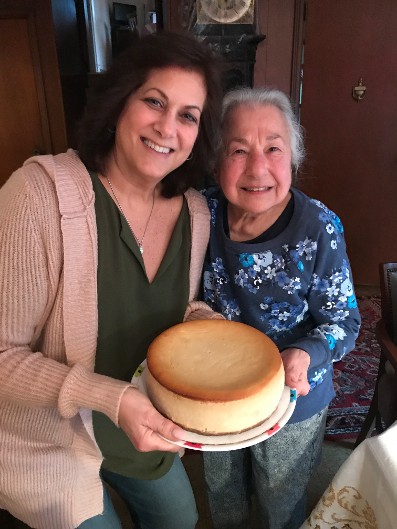 When your Aunt requests an Irish Cream Cheesecake, you make it!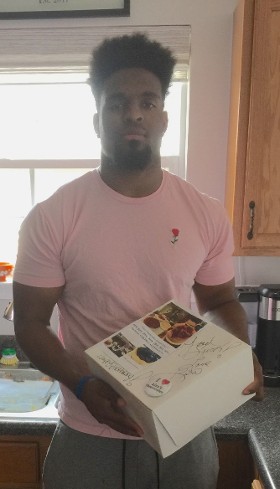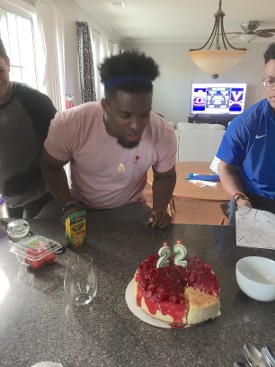 Nyack resident, Joe Giles-Harris is attending Duke University in North Carolina. His birthday request was cheesecake. Mom Lynn drove down and hand delivered it. Happy Birthday Joe and let's all wish Joe luck in the upcoming NFL draft!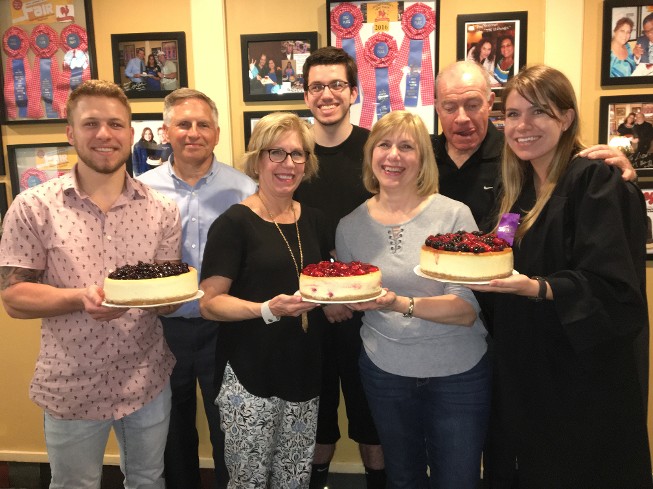 Congratulations Jenny on your graduation from Nyack College. The Nye and Treide Family came all the way from Massachusetts to celebrate with Cheesecake!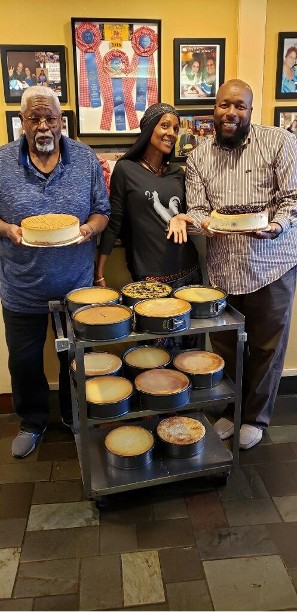 Zee Arenas, Tampa FL, Kareem Salaam, Maryland, and a Happy 83rd Birthday to Shermnan Keith from Yonkers, NY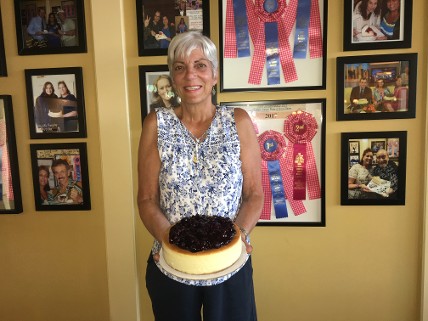 Pia came from Woodcliff Lake NJ for some cheesecake!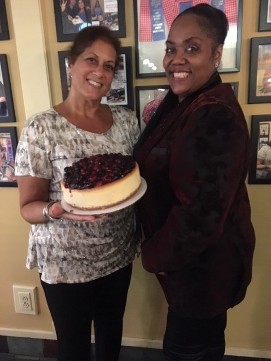 Freestyle Artists Nayobe and Coro were in the house!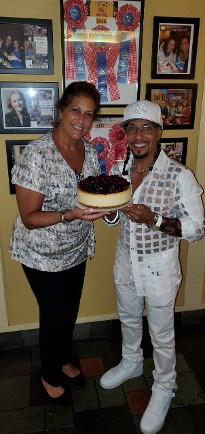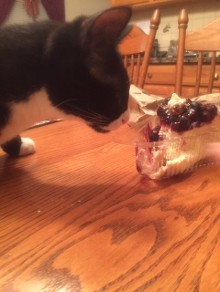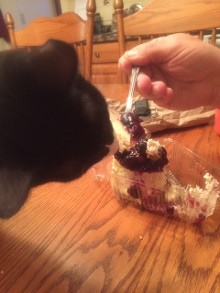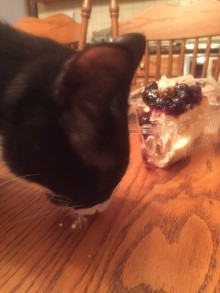 Even a very special amazing cat, Jimmy, loves Cheesecakes!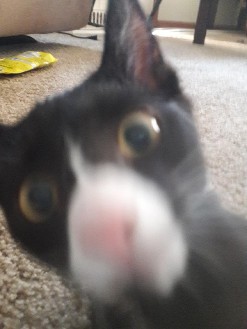 I love you Jimmy!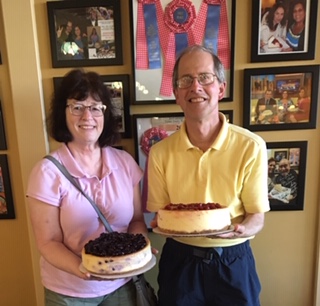 Carol and Allen from Willow Grove, PA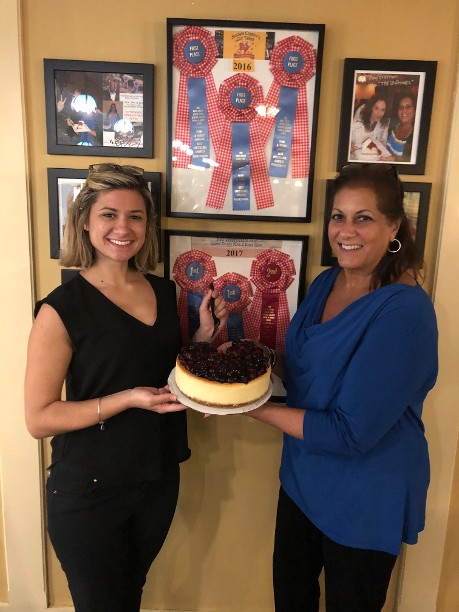 The beautiful, Alexandra, all the way from Florida!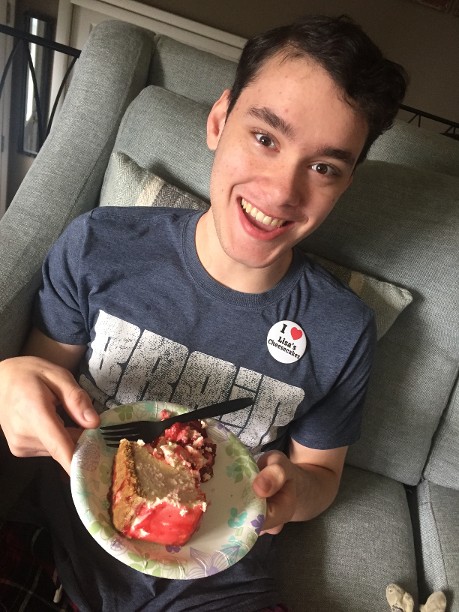 A perfect example that birthday wishes do come true. For his 19th birthday he asked for nothing but Lisa's Strawberry Cheesecake. I have to admit...that looks delicious! Happy Birthday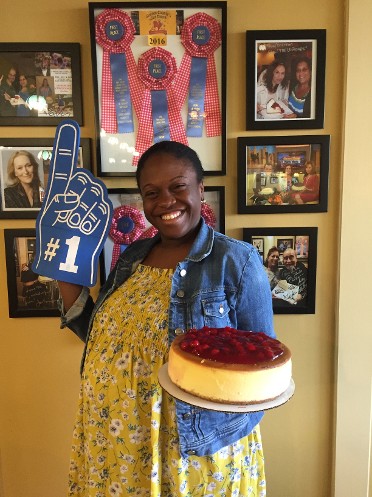 Amy was craving cheesecake for two! Congratulations and best luck with the baby!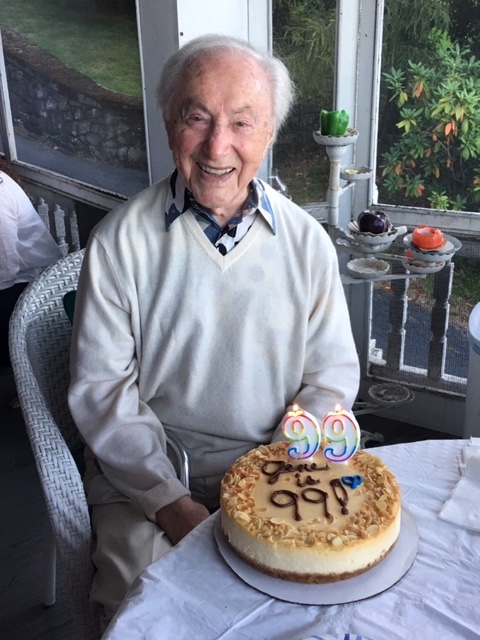 Happy 99th Birthday Gene....who asked for an Amaretto Cheesecake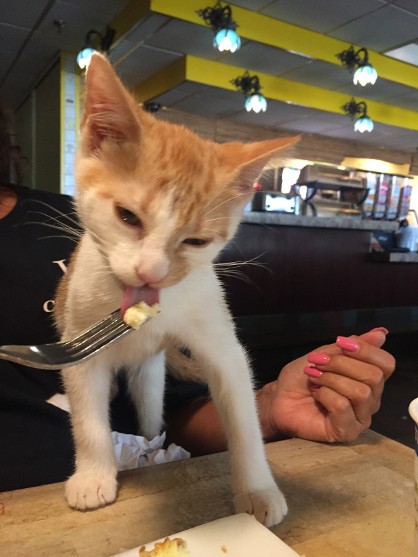 Phoenix the kitten loves cheesecake!